Preparing for another season of Flood Repair Projects
Winter, 2015 — 2015 was another successful year of fixing erosion and stream channel problems that were caused by the powerful flood of 2012. We completed 12 projects this past summer and fall at a cost of almost 1 million dollars. These projects were located on private and public lands along damaged shorelines on waterbodies such as Stewart Creek, Lake Superior and the Whiteface River in Meadowlands. (See photos below.) Come spring, we will be working with landowners to ensure that all of these projects are functioning as they should and carrying spring runoff without eroding or aggrading.
Steady progress in the face of complex issues
Over the past three years of working in streams and tweaking plans and designs to fit the unique circumstances of each site, we have found that in many cases theses reaches are actually in better shape after being "fixed" than they were before the flood. All of our restoration designs have habitat improvement asa key objective, along with repairing the stream in such a way as to make it moreresilient to future flooding.
In addition, by using natural materials such as rocks, logs and native plantsin our restoration designs, weareable to provide good examples of the benefits of natural channel design, a technique that is oftenlessexpensive, more aesthetically pleasing and more successfulthan simply using riprap, which prevents the stream from naturally evolving and moving within its floodplain. Working with instead of against a stream will usually result in a better outcome and as our flood projects stabilize over the next couple of years we will be able to provide a suite of projects for other communities to come witness and hopefully emulate in their owncommunities.
The large, two-property project we completed in October (pdf).Shows five sections of theriver receiving erosion control.
Flood relief background info 
In February, 2014, we received the final allocation of $620,000 from the Minnesota Board of Water and Soil Resources for an additional 21 projects. Prior to this, we received over $4 million in disaster funding to help landowners pay for repair work on their property.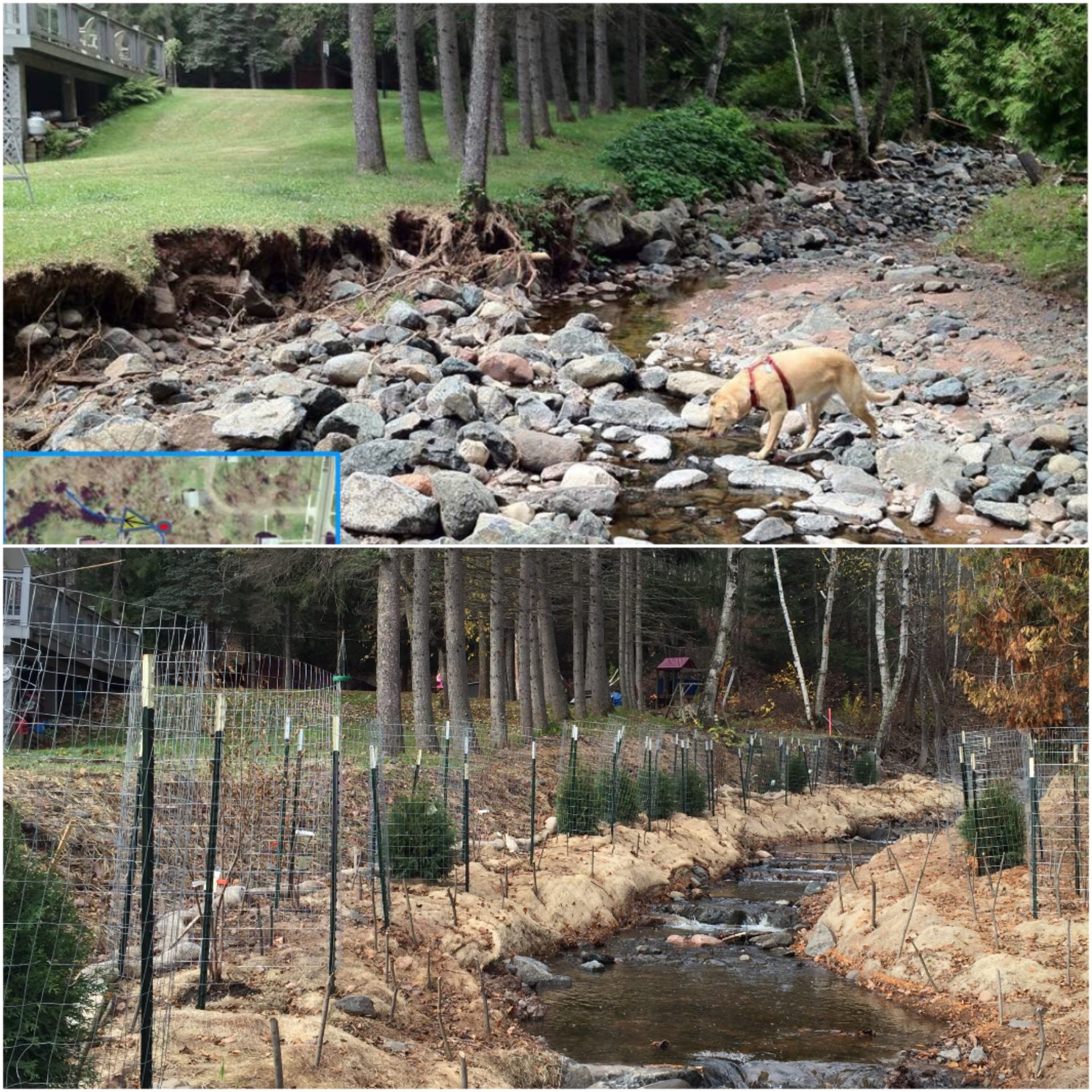 Stewart Creek
Before photo (top) shows severe bank erosion and leftover rock and debris in Stewart Creek on the western boundary of the City of Duluth. The after photo (bottom) shows a restored creek with a newly-planted riparian area and a restored creek channel that provides high-quality trout habitat.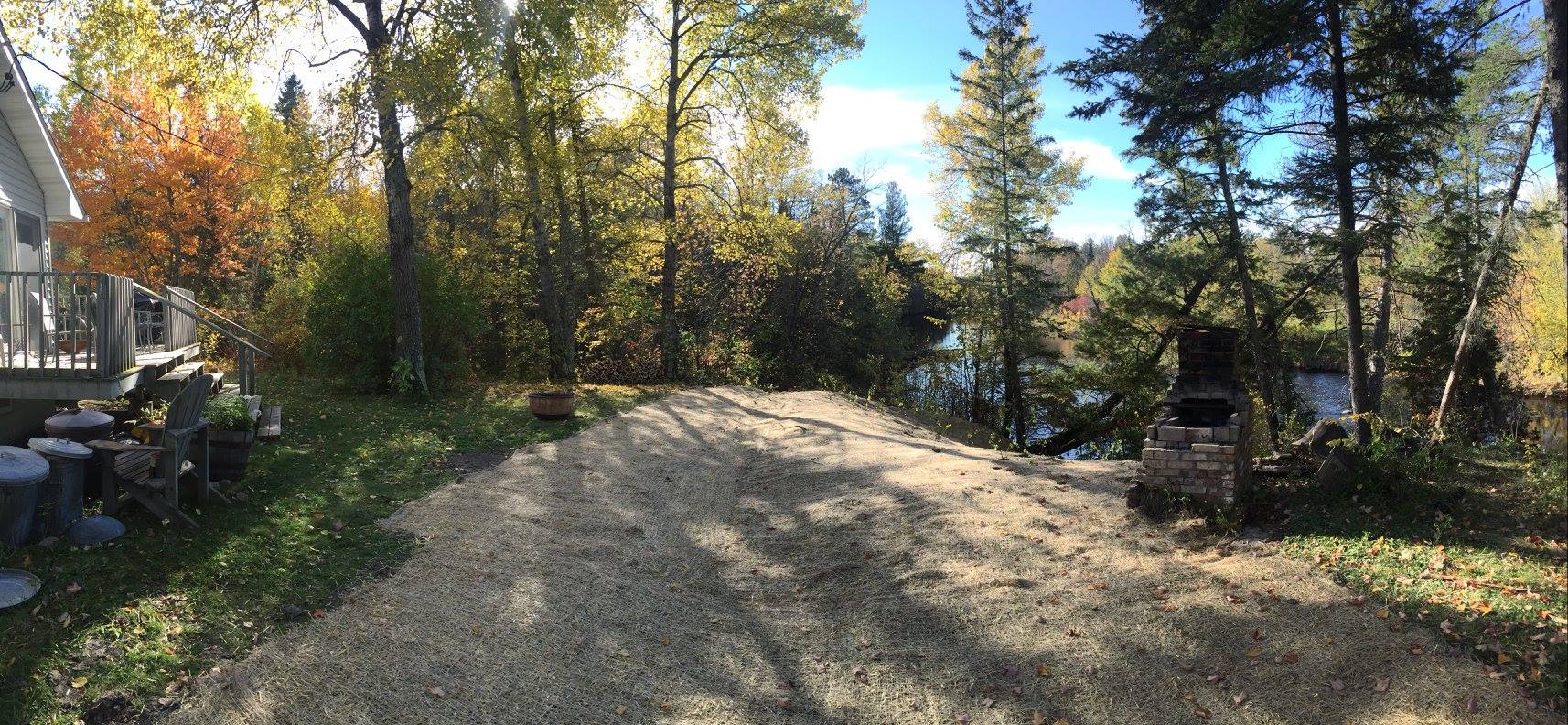 Whiteface River
Drainage swale and slope repair on the Whiteface River near Meadowlands. Erosion control blanketing, made of biodegradable material, will soon fill in with seed and native vegetation.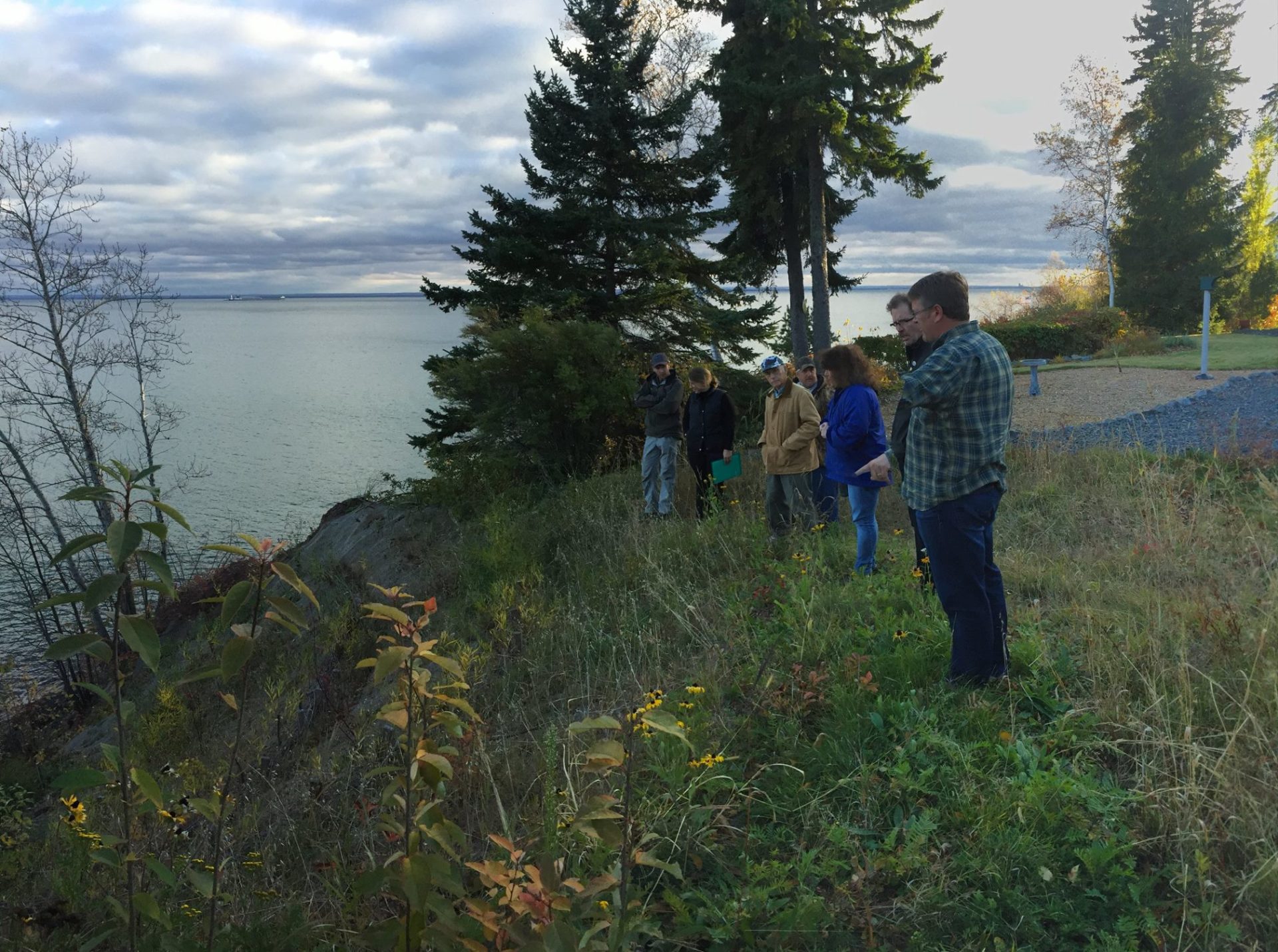 Lake Superior
Looking over Lake Superior from the top of another slope repair project on a recent project tour. The erosion control blanket has already vanished and the native vegetation is filling in!