Amity Creek Total Maximum Daily Load (TMDL)
Listed: 2004
Impairment: Turbidity
Current Status: TMDL study was made available for public comment in 2018
More Information: See the Lake Superior Streams Amity Creek webpage.
Flood Repair 2015
Amity Creek is on Minnesota's Impaired Waters List for turbidity, which means its designated use as a trout stream is being compromised by too much dirt in the water. Trout need cool, clear water to live and reproduce, so when the water is dirty, trout eggs don't survive and the adult fish can't see food or where they're going.  Our office has completed several projects on Amity Creek in an effort to help restore it so that it can be delisted as an impaired water.
Our most recent project was a flood repair project in the upper part of the watershed. During the flood, Amity Creek swelled from a tranquil, bubbling brook to a raging torrent. As a result, the powerful flow scoured away the clay banks of the creek, damaging habitat and private property. One property owner lost so much land to the raging waters that the foundation of the garage was in danger. The solution was to move the creek away from the toe of the bank upon which the garage was perched, re-grade the slope so that it was more stable and stabilize the new channel with soil lifts and vegetation.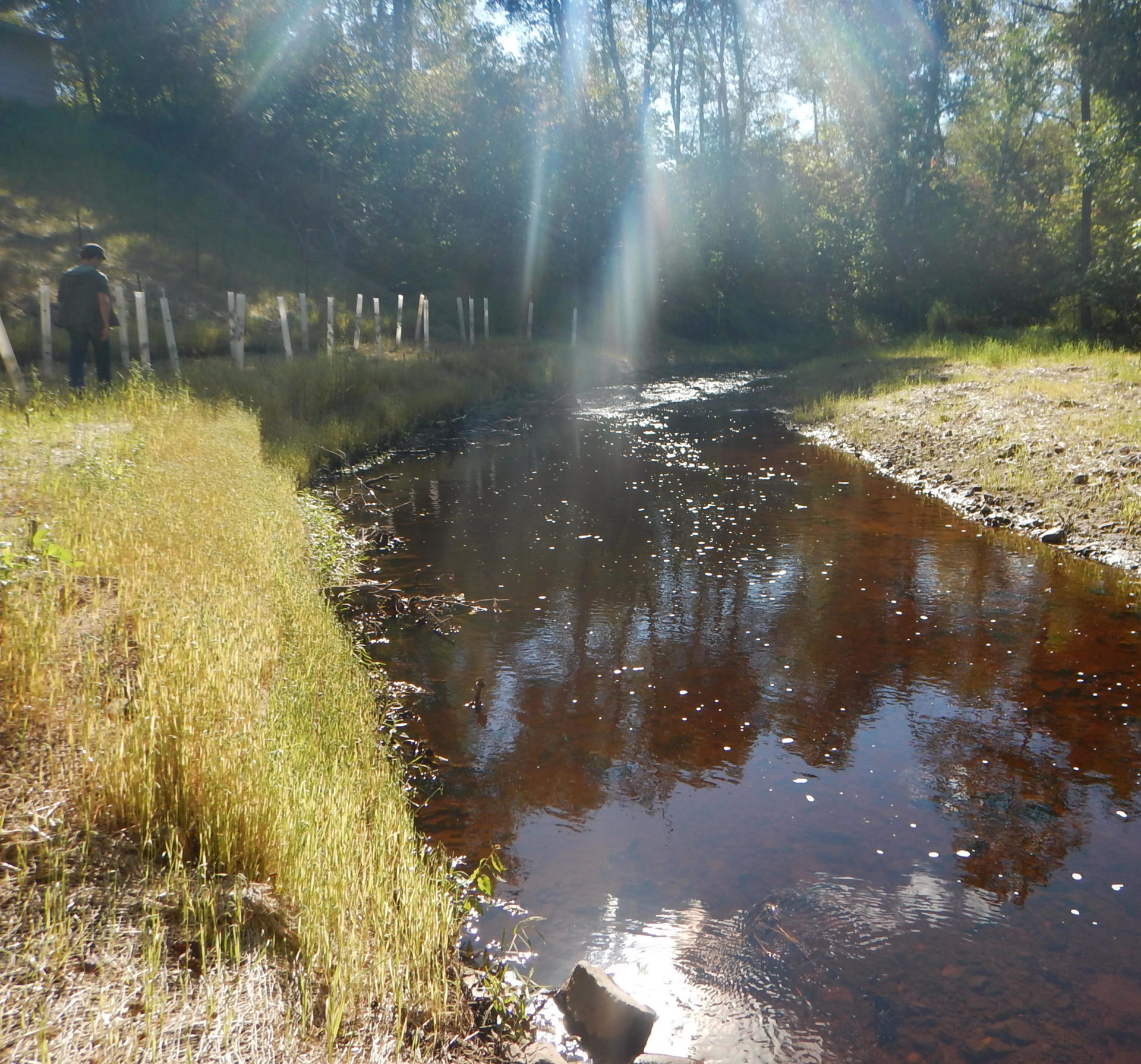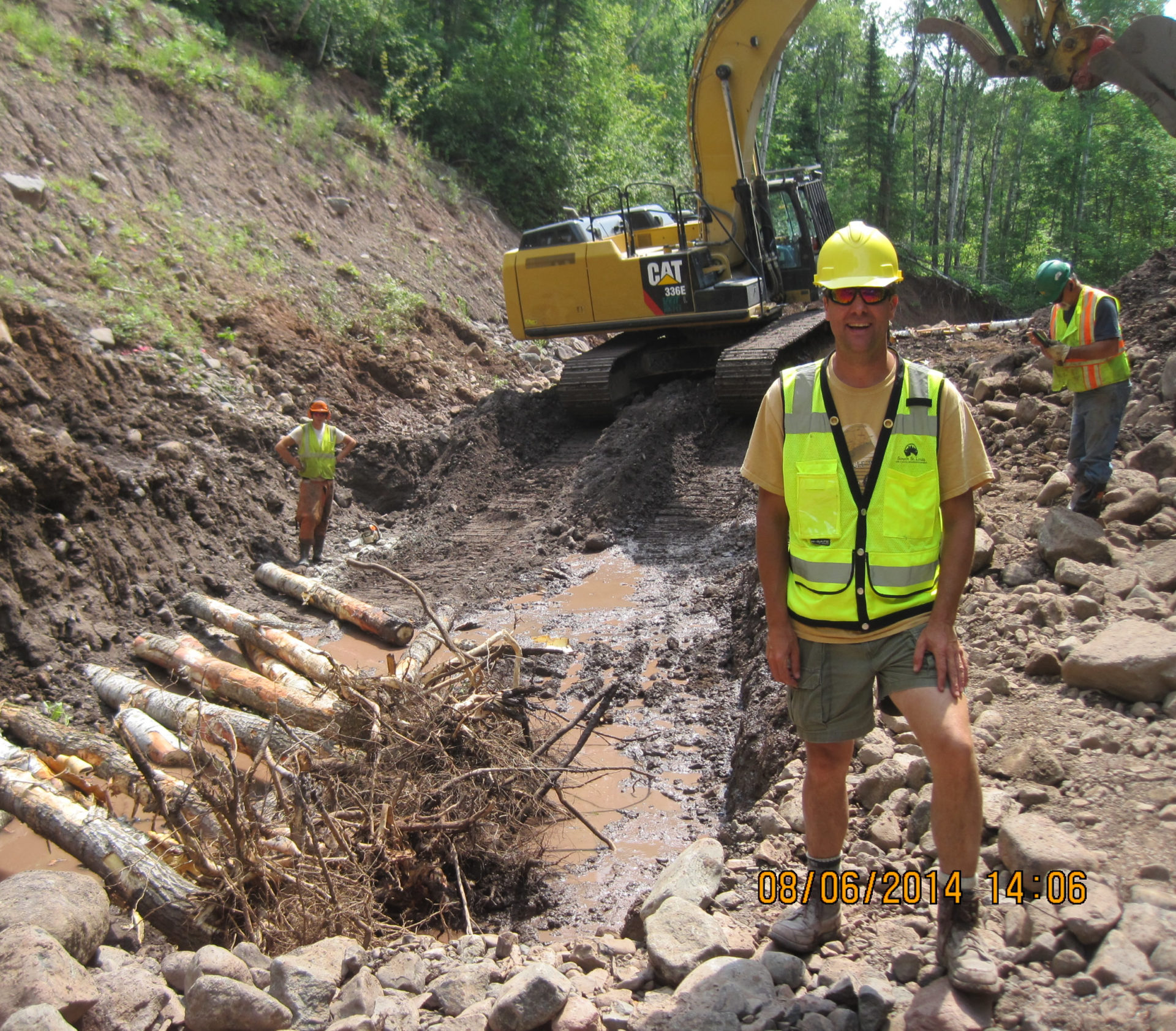 River Bank Stabilization 2014 & Culvert Replacement 2012
In 2014, we completed a similar bank stabilization project on a stretch of Amity that runs along Seven Bridges Road. This stretch had a very large, severely eroding  bank that was contributing large amounts of sediment to the creek. In 2011, our office received a $252,000 grant from the Great Lakes Restoration Initiative (GLRI) to restore this bank, along with other projects including tree planting and resizing culverts.
$21,000 of the GLRI grant was used to replace failed and insufficient  culverts under Snively Trail in Amity/Lester Park. Unable to carry the flow of larger rain events, these culverts had given way to gullies. In late October 2012, ten culverts were replaced.
.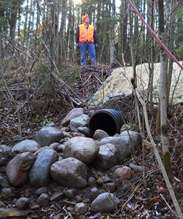 Tree Planting by Duluth Stream Corps
To help reduce runoff and cool water temperatures in Amity Creek, the tree planting component of this project saw  250 potted evergreens planted on streamside farmland owned by UMD. Located near the Jean Duluth Road, this land was cleared of trees decades ago for farming, but was never replanted once that practice ended. Thanks to GLRI funding, we provided the trees (white pine, white spruce and red pine) and fencing. Members of Duluth Stream Corps provided the labor. "We're very thankful for their help. They have the skills and the strength," says our Conservation Specialist, Kate Kubiak. "We couldn't have done it without them." The Duluth Stream Corps program was a three-year program also funded by the Great Lakes Restoration Initiative and coincidentally led by our current conservation specialist, Tim Beaster. Run out of the Community Action Duluth office, the program employed low-income residents to plant trees on private lots throughout Duluth.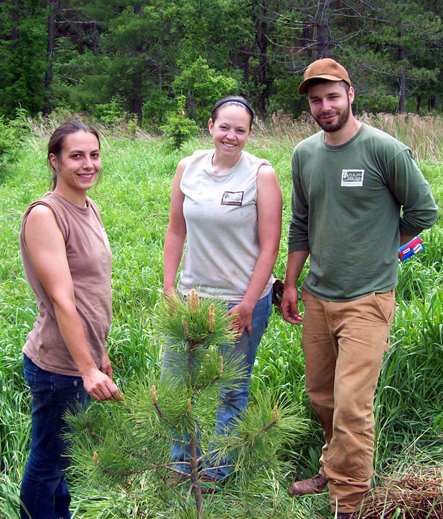 Past bank stabilization projects 2009
During the summer of 2009, our office conducted a reconnaissance study of the stream, which revealed several failing banks. Thanks to funding from the Weber Stream Restoration Initiative and the Great Lakes Basin Program, we and several partners were able to re-shape and re-vegetate two eroding banks that were contributing especially large amounts of sediment to the stream.