Conservation Engineering
Many of the technical and financial assistance programs that the South St. Louis SWCD provides require eligible best management practices to be designed by an engineer. We primarily receive engineering support from two sources: SWCD Technical Service Area III (TSA) and the National Resource Conservation Service (NRCS). Engineering services are free to the public.
SWCD Technical Service Area III
SWCD Technical Service Area III (TSA) is a joint powers organization of Aitkin, Carlton, Cook, Kanabec, Lake, Mille Lacs, North St. Louis, Pine, and South St. Louis Soil and Water Conservation Districts tasked with providing conservation engineering assistance to member SWCDs and northeastern Minnesota land users. The South St. Louis SWCD serves as the Host District for this program. Funds to support this program come from the Minnesota Board of Water and Soil Resources Nonpoint Engineering Assistance Program. Project assistance is requested through the local SWCD.
The TSA has recently assisted with several stormwater management projects. To talk with someone about project designs, call (218) 723-4865.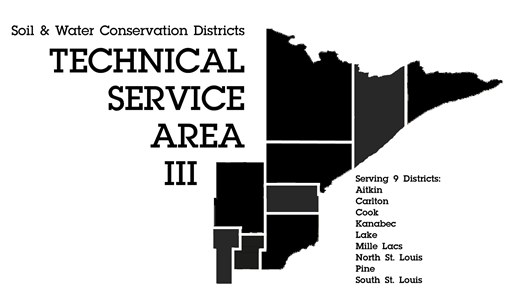 Matias Valero, P.E.
Conservation Engineer
Caitlan Richard, E.I.T.
Conservation Engineer
Mary Krueger
Conservation Engineering Technician – Mora
Paul Vartmann
Conservation Engineering Technician – Duluth
TSA 3 Board Meetings are held quarterly and can be attended in person at our Duluth office (4215 Enterprise Circle, Duluth, MN  55811) or at alternative sites listed on that meeting's agenda.
Additional reporting can be found on our District Business page.
Agendas
March 23, 2022 TSA3 Agenda – Cancelled
Minutes
February 1, 2023 TSA3 Minutes
March 23, 2022 TSA3 Minutes – Cancelled